Laparoscopic Surgery Specialist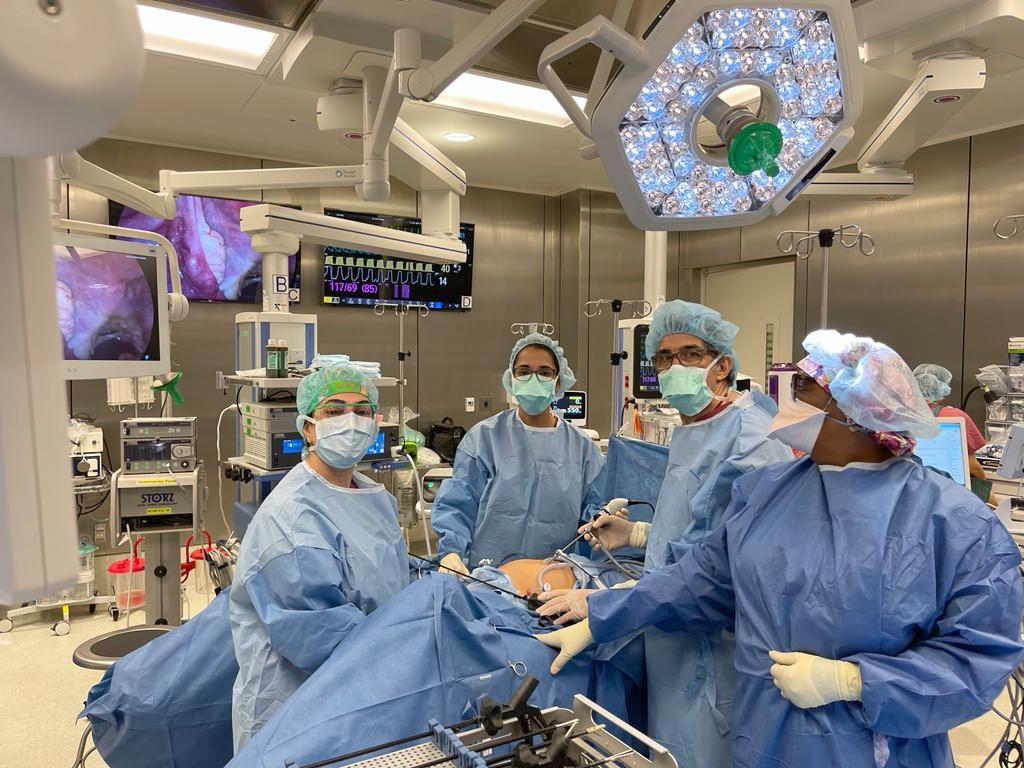 Dr. Farr Nezhat was one of the first surgeons in the world to utilize minimally invasive laparoscopic surgery to treat complex gynecological conditions while mitigating and managing surgical complications. He has since established himself as an expert in the field and is widely considered among the best laparoscopic surgery specialists in the world.
What is laparoscopic surgery?
Laparoscopy is a minimally invasive surgery (MIS) technique utilizing small incisions (typically less than 10 millimeters) to insert a camera and specialized surgical instruments into abdominal and pelvic cavities.  Minimally Invasive Surgery is a discipline whose proponents advocate minimizing incisions while maximizing surgical outcomes. A laparoscope (camera system) is inserted through a small incision, typically in the naval, and additional small incisions are made for inserting surgical instruments.  The abdomen is inflated with carbon dioxide gas to separate organs that naturally lie on top of one another so they can be better visualized and accessed.
What are the advantages of laparoscopic surgery over open surgery?
Small incisions
Fewer complications (blood loss, infection, ileus, etc.)
Reduced trauma to surrounding tissues
Improved visualization
Magnification.  The surgeon can magnify images on demand, effectively providing visualization superior to viewing with the human eye.
Collaboration.  Images are broadcast to large-screen monitors so the entire surgical team can see the operative process in real time.
Better access to hard-to-reach areas
Increased precision of microsurgical tools enables more precise treatment and prevention of injury to vital structures such as the bowel, bladder, ureter, nerves and blood vessels
Less pain
Shorter hospital stay (typically same-day outpatient)
Faster recovery time
Decreased risk of postoperative infection
What are the facts refuting the myths surrounding laparoscopic surgery?
Gynecological cancer can be treated safely and effectively by laparoscopy
Prior or multiple abdominal surgeries do not preclude having laparoscopy
Large fibroids, cysts or masses do not preclude having laparoscopy.  These pathologies may be removed by cutting into smaller pieces, placing in a collapsible bag, and removing through a small incision.
Severe adhesions (scar tissue) do not preclude having laparoscopy
Severe multi-organ endometriosis does not preclude having laparoscopy
Bleeding or complications during surgery can be effectively managed laparoscopically and typically do not require conversion to open surgery.  The skill of the surgeon is paramount in recognition, prevention and management of complications. Laparoscopy itself is not a cause for increased complications.
Overweight and underweight patients may be safely and effectively treated by laparoscopy
While the above-outlined scenarios do not necessarily preclude an open surgical approach, there are rarely individual cases in which an open procedure is preferable.  In cases necessitating an open incision, Dr. Nezhat aims to minimize the size of the incision.
What gynecological procedures does Dr. Nezhat perform laparoscopically?
Dr. Nezhat performs the vast majority of his surgical cases laparoscopically, either by traditional laparoscopy or robotic-assisted laparoscopy.  Since he is a pioneer and advocate of minimally invasive surgery, his goal is to minimize open incisions.
Laparoscopy requires increased training, skill and experience over traditional open surgery. Therefore, it is important to select a seasoned surgeon such as Dr. Nezhat, who performs a high volume of minimally invasive cases.  He has been performing minimally invasive surgery since 1983.
Dr. Nezhat and his brothers, Drs. Camran and Ceana Nezhat, are world-renowned for pioneering minimally invasive surgical techniques and routinely publish their work in peer-reviewed journals.  They have definitively demonstrated the safety and efficacy of laparoscopic surgery and were early proponents of its use.
"Wherever in the body a cavity exists or a cavity can be created, operative laparoscopy is indicated and probably preferable.  The limiting factors are: skill and experience of the surgeon and the availability of proper instrumentation." Operative Laparoscopy (Minimally Invasive Surgery): State of the Art.  Journal of Gynecologic Surgery, Volume 8, Issue 3, January, 1992.
The Drs. Nezhat authored four textbooks covering operative gynecologic and robotic-assisted laparoscopy and hysteroscopy.  Minimally invasive techniques and evidence-based efficacy are at the core of the texts.
Laparoscopic Surgery Q & A
Dr. Nezhat is currently the Fellowship Director of a postgraduate program covering minimally invasive laparoscopic and robotic surgery in gynecologic malignant and benign pathologies. This is a highly sought after multidisciplinary program, attracting international applicants.
Additionally, he is the Director of Minimally Invasive Surgery, a faculty position at NYU Winthrop Hospital.
A listing of over 226 of Dr. Nezhat's research articles can be found at the PubMed search engine, which pulls references and abstracts from the U.S. National Library of Medicine (NLM) database maintained at the National Institutes of Health (NIH).