Robotic Surgery Specialist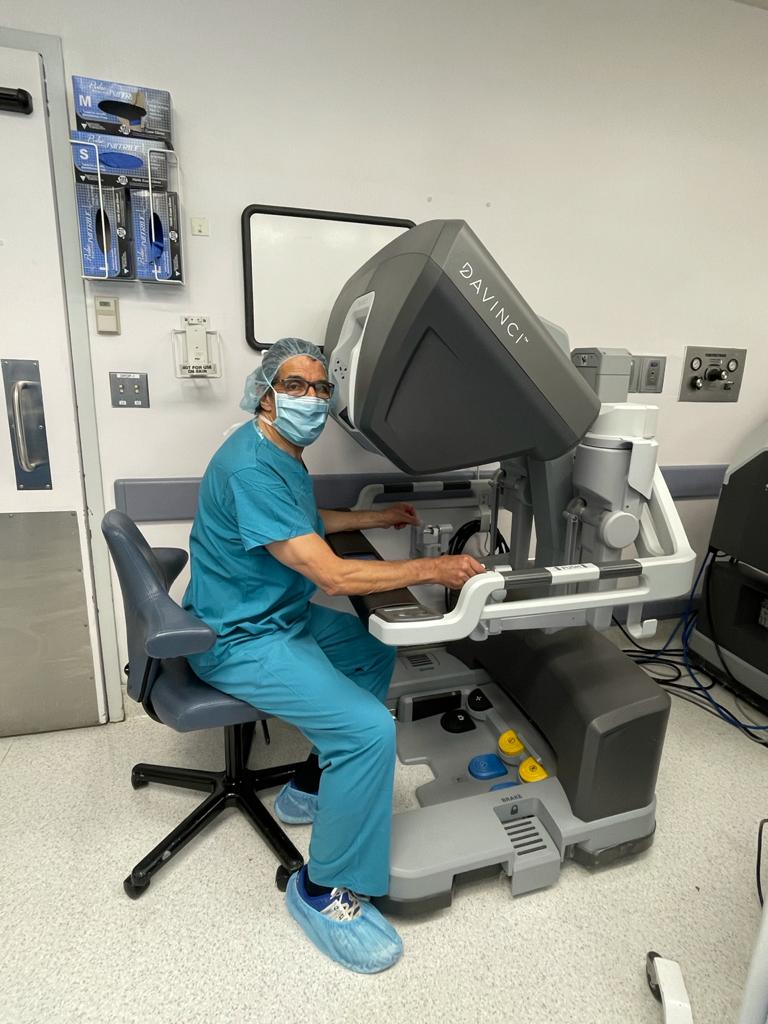 One of the defining characteristics of Dr. Farr Nezhat's world-class medical practice and surgical referral center is the early adoption and implementation of minimally invasive robotic surgery to manage complex gynecological conditions. Patients travel from all over to access treatment from one of the best robotic surgery specialists in the world.
What is robotic surgery?
Robotic surgery is an enhanced system of laparoscopic surgery incorporating the use of robotic arms to maneuver surgical instruments, which are controlled by the surgeon from a console.
The surgeon is in complete control of the robotic arms at all times.  It is not an automated system, is an assistive system.
What are the advantages of robotic surgery?
Robotic surgery offers advantages similar to those of laparoscopic surgery, with a few unique advantages as follows:
Increased range of motion (bending and rotation) of surgical instruments
Motion scaling (translation of the surgeon's hand movements into smaller, more precise movements)
Tremor reduction
Improved ergonomics
Three-dimensional visualization
What gynecological procedures does Dr. Nezhat perform robotically?
Dr. Nezhat performs the vast majority of his surgical cases by leveraging minimally invasive techniques, either by traditional laparoscopy or robotic-assisted laparoscopy.  Since he is a pioneer and advocate of minimally invasive surgery, his goal is to minimize open incisions.
Dr. Nezhat can safely and effectively adapt either technique to his surgical cases.
Each patient case is unique, and Dr. Nezhat decides on a case-by-case basis which "tool" is best to use; whether to use conventional laparoscopy or robotic-assisted laparoscopy.
Robotic Surgery Q & A
Dr. Nezhat is currently the Fellowship Director of a postgraduate program covering minimally invasive laparoscopic and robotic surgery in gynecologic malignant and benign pathologies. This is a highly sought after multidisciplinary program, attracting international applicants.
Additionally, he is the Director of Minimally Invasive Surgery, a faculty position at NYU Winthrop Hospital.
A listing of over 226 of Dr. Nezhat's research articles can be found at the PubMed search engine, which pulls references and abstracts from the U.S. National Library of Medicine (NLM) database maintained at the National Institutes of Health (NIH).